Our event location, the Emporio, is one of Hamburg's landmark buildings. Formerly the Unilever house, the building towers more than 90 meters above the city, and is considered an architectural icon of Hamburg. The conference center tower offers a stunning panoramic view of the city, the river, and the canals, so you can participate in the trainings, discuss new research, and make new connections in an iconic building that has been remodeled into a state-of-art meeting facility with world-class sustainability features.
The hotel close-by (Swedish chain Scandic) also offers a sauna, parking, free wifi, as well as a central location so you can explore what Hamburg has to offer.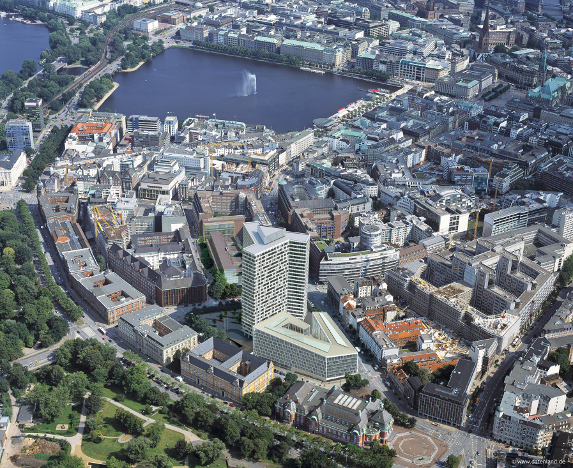 Aerial view to triangular shaped Emporio, that V thing in front of it is the Scandic hotel. Binnenalster is the lake with the fountain.
Please note that the hotel is often being referred to as Scandic Emporio. Read: The Scandic hotel (=Swedish chain) close to the Emporio.